INNOWVATIVE CONTROLLER FOR DIRECT ENGINES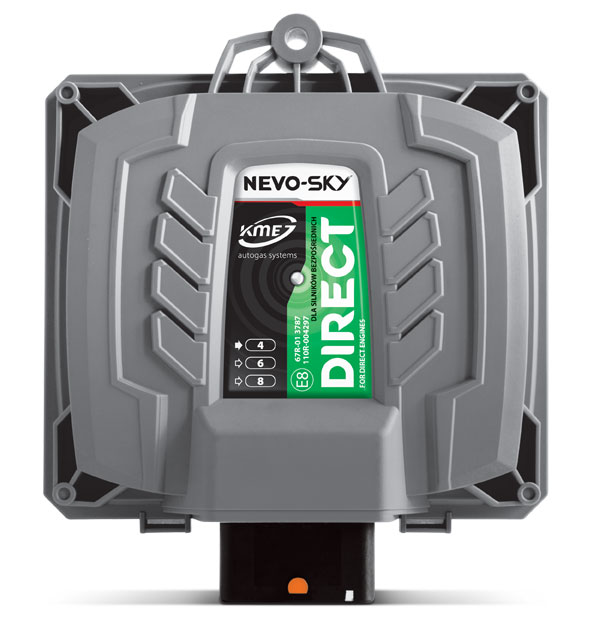 In comparison to similar devices, DIRECT distinguishes the construction (i.e. it has one connector, which facilitates assembly of gas installation) and intuitive software, which is based on the current program NEVO. As a result, every specialist who has experience with KME products will be able to configure and calibrate the system without any obstacles.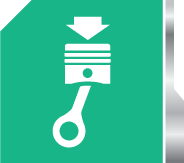 DIRECT ECU from new line products NEVO-SKY is dedicated for installation in a modern and more and more popular cars with direct petrol injection. DIRECT is produced based on modern technology of automotive gas installations production and with high quality co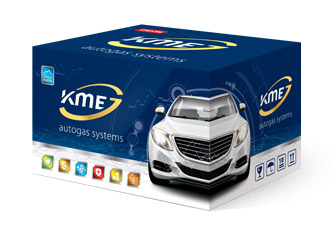 CAR WITH NEVO-SKY INSTALLATION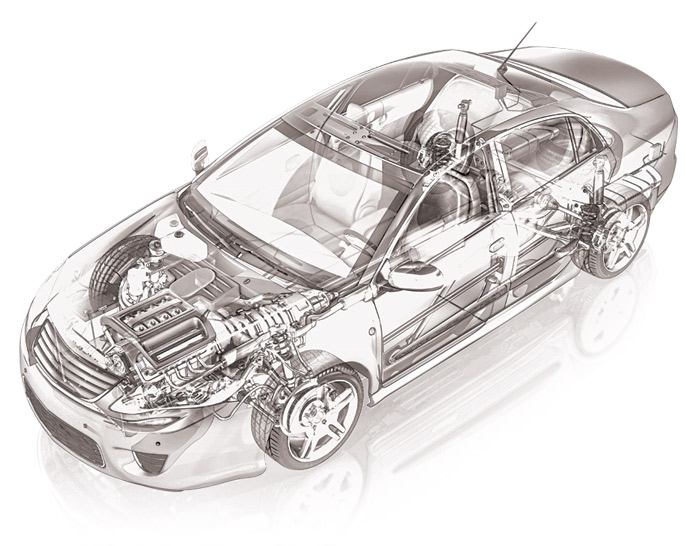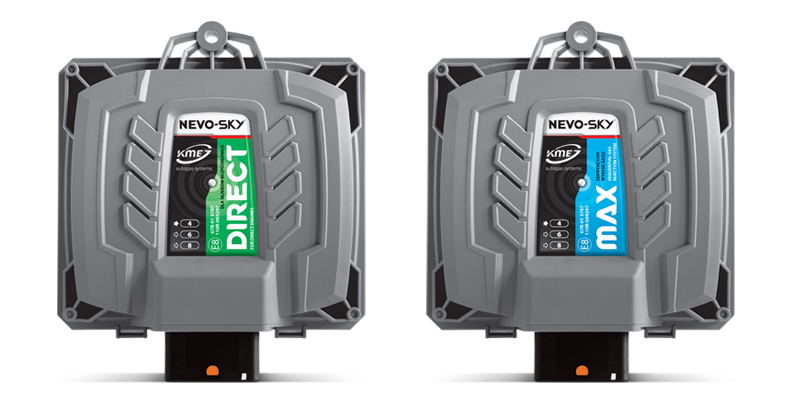 NEVO-SKY FAMILY - LPG/CNG ELECTRONIC CONTROL UNITS
The new product line NEVO-SKY was created as a result of activities undertaken as a part of realization of a visionary project, the purpose of which was to create devices support comprehensively all kinds of available vehicles. The new product line includes ECUs for cars with direct injection (DIRECT) as well as controllers of cars with indirect injection (MAX). It is innovate, comprehensive platform, which is dedicated for all engine types (engine code and car brand do not matter).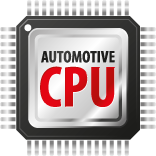 Operation of gas ECU is based on the fast, dual-core processor dedicated to automotive industry (Automotive). As a result, gas ECUs are accurate and easy to use, offering also many diagnostic tools dedicated for the calibration process of modern engines. Using the latest generation components, gas ECUs can easily support contemporary solutions and algorithms of petrol ECUs.
NEVO-SKY system uses one, analogue pressure sensor CCT6 (gray). The pressure sensor has got a new 5-pin connector, and construction ensures precise measurement of gas pressure and gas temperature. NEVO-SKY supports three control panels (switches), including the new, multicolor DG7 RGB.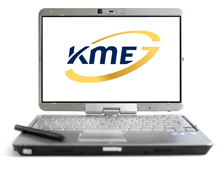 New product line NEVO-SKY has new, improved software, which is based on the current NEVO software, thus facilitates service for professionals who have experience with the KME products. A major advantage of the software is possibility of use it for gas ECU, which support both types of cars – with direct and indirect injection engines.
NEVO-SKY controllers are equipped with modern, tight body cover and hermetical 48-pin connector designed for the automotive industry. The housing is designed in the image of a modern 8 cyl. power-engine unit. Newly designed harness has got a new plug, which allows to arrange wires at 90 degrees to the axis of the slot. That facilitates assembling and installation in the engine compartment.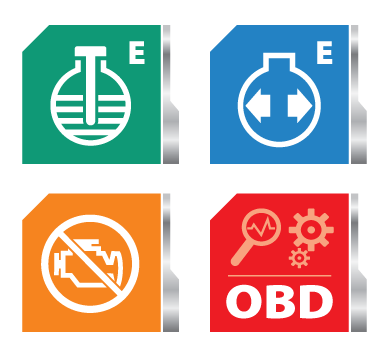 KME's original solutions – such as OSA, MOSA and supporting high power cars – which are applyed in the NEVO family, have been preserved and developed in the new line NEVO- SKY. In addition, emulators - fuel level emulator and fuel pressure emulator - and OBD Auto-Clear tool were built in contollers without need to connect any additional devices.
Due to these solutions car equipped with system with controller DIRECT or MAX becomes more ecological and economical. At the same time gas system do not influences car's original traction properties (power and acceleration).
Built-in OBD module cooperates with the following OBD protocols:
   ISO9141
   KWP2000slow
   KWP2000fast
   CAN_11bitID_500kbps
   CAN_29bitID_500kbps
   CAN_11bitID_250kbps
   CAN_29bitID_250kbps
 

 

TECHNICAL CHARACTERISTICS
OF ELECTRONICS

 

Number of cylinder

 

4 (8*)

 

 

4 (8*)

 

Configureable 3D correction maps for banks

 

+

 

 

+

 

OBD parameters monitor

 

+

 

 

+

 

Automatic OBD errors reset

 

+

 

 

+

 

OBD System Adaptation – OSA

 

+

 

 

+

 

Support reverse OBD correction

 

+

 

 

+

 

Map On-Board System Adaptation – MOSA

 

+

 

 

+

 

Automatic set model

 

+

 

 

+

 

Number of analog inputs, ie. Lambda Probe

 

5 (10*)

 

 

5 (10*)

 

Output 12VOUT (controling of external devices)

 

2

 

 

2

 

RPM readings from camshaft sensor

 

+

 

 

+

 

Ability to work without connecting RPM wire

 

+

 

 

-

 

Software filter of RPM signal

 

+

 

 

+

 

Decreasing of gas injection time for cold engine (cold VAG)

 

+

 

 

+

 

Adding petrol on gas / petrol injectors protection

 

+

 

 

+

 

Support for engines with petrol micro injections

 

+

 

 

+

 

Fuel overlap (petrol-gas) during switching to gas

 

+

 

 

+*

 

Configureable correction of gas and reducer temperature, vacuum and RPM

 

 

 

 

 

 

Configureable correction of gas pressure

 

+

 

 

+

 

Dose correction for gas injectors / bank configuration

 

+

 

 

+

 

Master/Slave function

 

+

 

 

-

 

Gas injectors test

 

+

 

 

-*

 

Reducer pressure letting off on cut-off

 

+

 

 

+*

 

Gas injectors heating

 

+

 

 

+

 

Advanced self-diagnostic with frozen frames

 

+

 

 

+

 

Built-in fuel level emulator

 

+

 

 

+

 

Built-in fuel pressure emulator

 

+

 

 

+

 

Emulator ciśnienia paliwa wbudowany w sterownik gazu

 

+*

 

 

+

 
* in preparation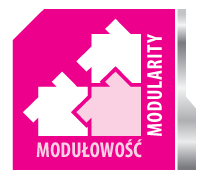 NEVO-SKY systems succesfully function in cars, which fulfill emission standards EURO 4/5/6.
One of the most important assembly features, which characterizes KME devices is modularity. Both systems (MAX and DIRECT) have one type of equipment including harness, pressure sensor, control panel (switch). Controller is selected according to the type of fuel supply used in the vehicle.
 

 

   USAGE CHARACTERISTICS
OF ELECTRONICS

 

Operation with Android app

 

+*

 

 

+*

 

Support OBD through Android app

 

+*

 

 

+*

 

Support standard engines / turbo / valvetronic

 

+

 

 

+

 

Support direct injection engines

 

-

 

 

+

 

Support indirect injection engines

 

+

 

 

-

 

Control panel (switch) in standard

 

DG7

 

 

DG7

 

Working mode – CNG fuel

 

+

 

 

+

 

Start&Stop function

 

+

 

 

+*

 

Workshop options (e.g. maintenance service, protection with password against external intervention)

 

+

 

 

+

 

Preview of operating parameters with recorder

 

+

 

 

+

 

In case of the lack of gas automatic return to petrol and automatic switch to gas supply

 

+

 

 

+

 

Possibility of emergency start on gas

 

+

 

 

-

 

Set the permissible number of emergency starts

 

+

 

 

-

 

Blockade of working on gas after maintenance service time

 

+

 

 

+

 

Sound signal indicating the impending maintenance service

 

+

 

 

+

 

Operating time counter on the gas and petrol

 

+

 

 

+

 

Support vehicles after chip tuning (high power engines)

 

+

 

 

+

 

Extensive system of self-diagnosis

 

+

 

 

+

 
* in preparation
InjecGas Injection Generationtion system generation
IV generation
IV generation
Injection type
Direct Injection
Direct Injection
Number of cylinders
3 cylinders
3
4 cylinders
4
OBD
Yes
Yes
Gamontojas
KME
KME